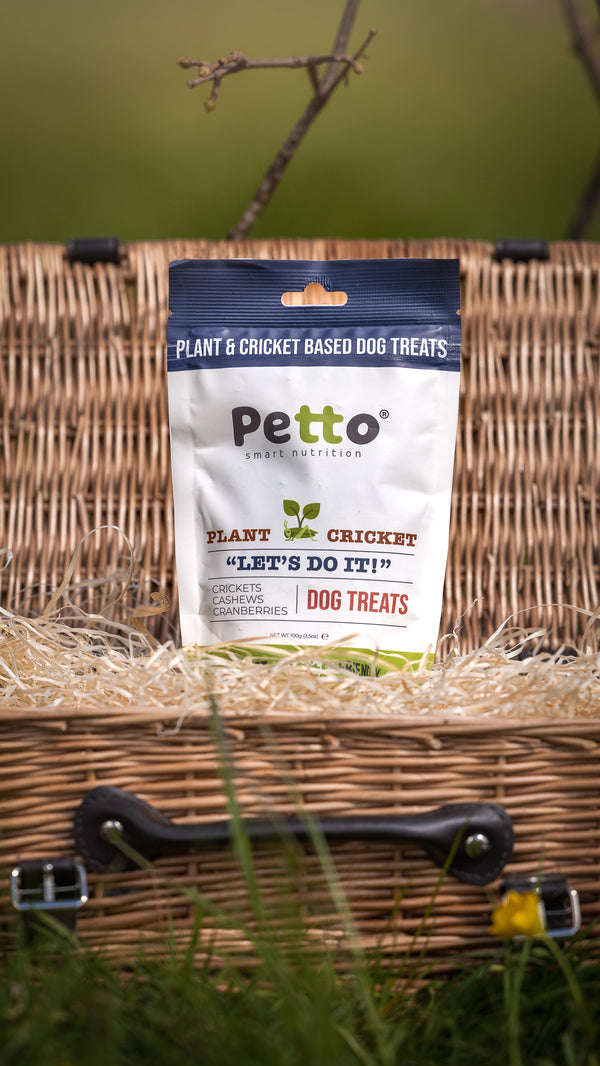 "Let's Do It" Plant & Insect Based Dog Treats with Crickets, Cashews and Cranberries 100g
Save 25% when you buy larger packs - View more
🕒 Delivery is 3-4 days
"Let's Do It" dog treats your furry friend will love - with Crickets, Cashews and Cranberries.
Packed with a high protein content that is derived purely from the highest quality human grade plant and insect based ingredients.

They feature no artificial additives nor preservatives.

Designed by super food experts and informed pet nutritionists. 

Petto treats are slowly baked and produced in an actual bakery. 

Hypoallergenic.

Packaging is eco-friendly and fully recyclable.  

Made in the UK.
Ingredients: Gram Flour, Oat Flour, Sweet Potato Flour, Petto Health Boost Blend (Flaxseed, Nori, Yeast Extract, Chia Seeds,  Dried Shiitake Mushroom), Cold Pressed Rapeseed Oil, Cricket Meal 4%, Fresh Blueberries, Cashew Nuts, Dried Cranberry 2%, Kale, Antioxidant Minerals
Your Dog Will Love Us
Petto Smart Nutrition products are of highest quality and baked with the most important ingredient: love. Your dog will love them or your money back.
Our Delicious Range
Petto Smart Nutrition treats are made of plants & insects and baked in our bakery. Try one of our 4 variants with unique ingredients like Crickets, Pumpkin, Carrots, Lentils, Coconut Oil, among others.